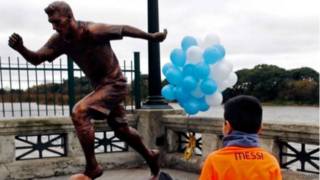 A bronze statue of Argentine football star Lionel Messi was unveiled in Buenos Aires, days after he announced his retirement from international football with the national team.
The mayor of the city, Horatio Rodriguez, unveiled the statue that was erected on the banks of the La Plata river.
Messi announced his decision after the defeat of Argentina against Chile in the final of the "Copa America" ​​football tournament.
Since then, feelings of support for Messi have poured in.
Argentinians used social media to ask the 29-year-old football star to reverse his decision, and they used the hashtag (don't go Liu).
One of the leaders of Argentina, Mauricio Macri, was one of those who tried to persuade Messi to withdraw his decision.
"I feel, more than ever, proud of our national team. I hope the pleasure of watching the best team in the world will continue for many years to come. Do not leave, Leo," said Macri on Twitter.
The hashtag also appeared on electronic screens on the streets, which are often used to alert drivers to something in Buenos Aires.
The statue was erected on Gloria Street or "Paseo de la Gloria", which is filled with statues of other Argentine athletes such as tennis player Gabriela Sabatini and basketball player Manuel Ginobelli.
Messi said after his country's defeat against Chile on Sunday at the Copa America, "It has ended for me playing with the national team … You have done everything possible. It is painful not to be a hero."
Messi was part of the Argentine team when he lost the Copa America twice with penalty penalties against Chile, and he was also part of the team when he was defeated 0-1 by Germany in the 2014 FIFA World Cup Final.
However, Messi is witnessing a great success in playing for clubs, where he achieved with the Barcelona team winning the Spanish League 8 times, and the Champions League 4 times.
He also received the Golden Ball award 5 times.