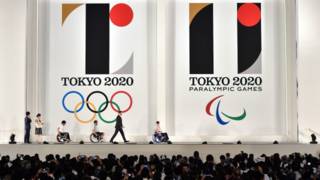 The Olympic logo, hosted by Tokyo in 2022, was canceled after allegations of his theft of another design.
The Olympic Organizing Committee said that many doubts had been raised about the slogan to be used at the session.
A Belgian artist had said that his own logo had been stolen.
Logo designer Kenjiro Sano admitted, during an investigation, that he had copied material on the Internet in a previous project, Japanese media reported.
"We have concluded that it is right to repeal the slogan and another new design," Toshio Moto, head of the Tokyo Olympics Organizing Committee 2022, told reporters.
He added: "At this stage, we have seen that this slogan cannot win the support of the masses."
Last July, Japan canceled the design of a new Olympics stadium due to a controversy over its cost.