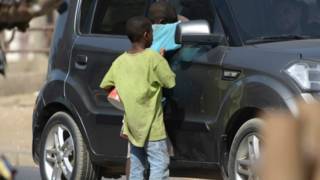 Senegalese President Macky Sall issued an urgent presidential order in which he forced the local administration to clear the streets of all begging children, vowing to try all those who send children to beg in Senegalese cities, that they would be imprisoned or fined.
Ten years ago, the Senegalese government prohibited adults from sending children to beg, but this phenomenon is still rampant.
The image in Senegal of these beggars remains unchanged for many years. Children appear barefoot, in shabby clothes, chanting some prayers, shaking small boxes with some cash to alert passers-by to their need for money.
Many parents do not know that their children beg in the streets, because they send them to religious schools to memorize the Qur'an.
Instead of teaching and memorizing the Qur'an, many imams of these schools prefer to force them to beg, while they take for themselves all the money these children collect.
The Senegalese president tried several times to eliminate this phenomenon that is widespread in society, but he faced opposition from many influential imams through the Sufi orders that spread abundantly in the country.
"The rights of children must be reserved," the Senegalese president wrote on his Twitter site.
There are traditions in Senegal that turn a blind eye to the issue of sending children to beg in the streets in the countryside and cities.
Human rights organizations say thousands of children are forced to beg by their teachers in religious schools and Sufi corners, many of whom are exploited and live in an unhealthy environment and lack the most basic basics for decent living.
Senegal had voted in 2005 on a law prohibiting the phenomenon of sending children to beg in the streets, but human rights activists say that despite the passage of that law, only a few officials have been convicted in accordance with the said law.