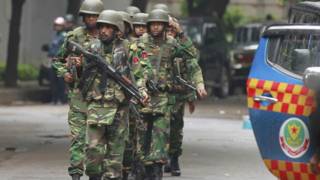 The Minister of the Interior of Bangladesh said that the jihadists who killed twenty people in the process of holding hostages in a restaurant in Dhaka belonged to a local group and not to the Islamic State.
"The perpetrators are members of the Jamaat-ul-Mujahideen in Bangladesh," a group which has been outlawed for more than 10 years, said Asad al-Zaman Khan. "They were not linked to the Islamic State."
The head of the police, Shahid al-Haq, announced the first names of the five perpetrators of the attack, adding that they were known to the police.
Meanwhile, Bangladesh announced a two-day national mourning for victims of the attack by Islamist militants on a coffee shop in the capital, Dhaka.
Twenty hostages, the majority of whom are foreigners, were killed in the attack. Two officers were also killed and 30 others were injured.
The Bangladeshi commandos rescued 13 people after a 12-hour siege, killing six militants and arresting another.
Among the victims were nine Italians, seven Japanese, one American and one Indian, as well as one missing Italian.
Meanwhile, new accounts were offered to survivors of the attack.
An Argentine chef, Diego Rossini, recounted how gunmen stormed the "Holly Artisan Bakery" cafe, on Friday evening, with grenades and machine guns.
And he said, "I still can't believe this happened."
He added, "It was like a movie, when they pointed their guns at me, and I could hear the sound of gunfire. I was very afraid."
He said he managed to escape by running towards the cafe balcony and jumping onto another building.
An Italian businessman, Gani Busquetti, had gone to the cafe garden to answer a phone call when the attack began.
Busquete threw himself among a group of shrubs in the garden and then fled. His wife's sister tells Italian TV that he searches for his wife in hospitals to find her among the victims.
The gunmen were said to have tortured and killed any hostage who was unable to read a verse from the Qur'an.
An army spokesman said the victims were attacked "brutally" with sharp weapons.
The Prime Minister, Sheikh Hasina, announced the two-day national mourning, pledging to combat terrorist attacks in the country.
"Anyone who believes in a religion cannot commit such acts, they do not convert to any religion, their only religion is terrorism," she said.
The Islamic State posted online pictures of five men it said had participated in the attack. The militants appeared before a black flag of the organization.
Bangladesh has recently suffered a series of killings targeting bloggers, gay activists, academics and followers of religious minorities, in which it accused Islamic militants.