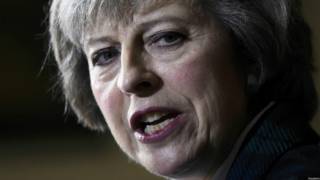 Theresa May, the Home Secretary of the British Conservative Government, rejected the claims of her competitors that the candidate to succeed Prime Minister David Cameron, who announced his resignation, should be a supporter of the exit campaign from the European Union, and stressed that the country needs a prime minister who unites the ranks of those who voted to exit and those who voted In favor of staying.
May pledged to bring the "exit" and "stay" camps closer to and govern the country as a whole.
"Britain needs someone more capable than just running the country to get smoothly out" of the union, which has lasted more than 40 years, she said.
May was a supporter of the "survival" campaign before 52 percent of those who voted voted in favor of Britain giving up its membership in the European Union, while 48 percent of them supported staying within the bloc.
And her competitors, Michael Goff and Andrea Ledsom, the two candidates for the party leadership – and the prime minister – said that he should not lead the country who did not believe in the necessity to leave the European Union from the beginning.
But May rejected that and said in an interview with ITV, "It is not about my thoughts during the past 10 days," vowing to bring the two camps closer in order to "move forward."
May won the support of more than 70 party representatives in the House of Commons, including Ministers Chris Grayling, Justin Greening and David Mundell.
"The presence of Boris Johnson was among the names competing for the leadership of the party," said Goff, in a BBC interview, in an interview.
Goff's candidacy was surprising, as it was widely expected that the attorney general would support the candidacy of Boris Johnson, who led the secession camp in the recent referendum and the former mayor of London.
But Johnson shocked the political street when he announced his reluctance to run on Thursday.
Stephen Crab and Andrea Lidsum William Fox are also participating in the intense leadership race.
The five candidates have a deadline of next Tuesday to rally the most support from the 329 Conservative Representatives in the House of Commons before the first round of voting takes place that will see the candidate who wins the least number of votes quit, and so on until only two candidates remain.
At that point, a vote is held in which party members participate throughout the country.
It is hoped that the name of the winning candidate will be announced on September 9th.