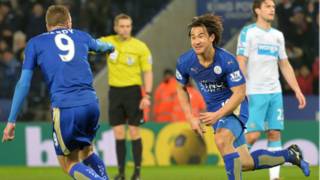 Leicester strengthened its lead in the Premier League table, after winning the 30th week's match at Newcastle United 1-0.
Japanese Shinji Okazaki scored the match goal in the 25th minute, and the team maintained the goal difference to the end, continuing the difference of points between Leicester City and its closest rival for the Premier League 5 points.
Leicester will get 63 points from 30 matches in the tournament, while its Londoners Tottenham Hotspur collected 58 points from the same number of matches, followed by Arsenal with 52 points from 29 games.
The match was the first for Spanish coach Rafael Benitez with Newcastle, to replace former coach Steve McClaren.
This is the fourth consecutive defeat for Newcastle, who lost 17 games this season, collected 24 points and is in the penultimate position in the ranking table of 20 teams.
Only 8 rounds remain until the end of the tournament this season.