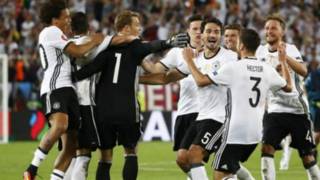 The German national team qualified for the semi-finals of the European Nations Cup after defeating the Italian team on penalties.
Masoud Ozil scored Germany's goal in the second half and Leonardo Bonucci scored a penalty kick after a strange hand from Jerome Boateng.
The penalty shootout was a big hit, so I wasted Germany three times and Italy four times, as Germany goalkeeper Manuel Neuer managed to block two balls.
The German team will meet the winner of the match, which will bring together the French and Icelandic teams tomorrow.
The two teams continued to exchange offensive attempts with the continuation of German superiority, but it was unsuccessful, ending the extra time with a tie 1/1.
The two teams ruled for a penalty shoot-out that ended in a 5/6 victory for Germany, and the discount came with the last penalty kick that Jonas Hector paid.
Germany did not – for the sixth time in a row – ever beat Italy in any major finals in a march dating back to the 1962 World Cup.