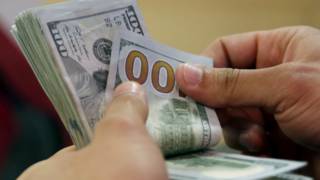 Egypt has paid one billion dollars in debt owed to Qatar, according to the Egyptian government.
Egypt was indebted to Qatar with the amount that Qatar National Bank covered as part of treasury bonds issued by the government of Egyptian President Mohamed Morsi, who was fired in 2013 – to confront economic problems.
The bonds were sold on the Irish stock exchange at a value of $ 5.5 billion in two stages, with interest ranging between 3 and 4.5%, and interest is paid every six months.
"The central bank paid the sum of one billion dollars" to Qatar, the official Egyptian Middle East News Agency quoted Tarek Amer, the governor of the Central Bank of Egypt, as saying.
The agency said that Qatar received the billion dollar Friday, which is "its last debt to Egypt."
Relations between the two countries worsened after the military overthrew President Morsi on July 3, 2013 following widespread popular protests against his regime.
Qatar supported the Muslim Brotherhood to which Morsi belonged, and considered that the army turned against its legal system.
Reports say that Qatar provided Egypt with about 7.5 billion dollars in grants and deposits during the year that Morsi spent in power.
After the ouster of Morsi, Saudi Arabia, the United Arab Emirates, and Kuwait provided billions of dollars in aid to Egypt.
Amer said that Egypt also paid about 800 million dollars to the Paris Club.
He stressed his country's insistence, which is suffering from a severe shortage in the dollar, due to the decline in tourism and the returns of the Suez Canal, to fulfill all its external obligations and not failing to pay any external obligations on them.