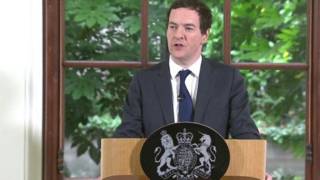 British Finance Minister George Osborne has pledged to cut the corporate tax to encourage business owners to invest in the UK, following the referendum that ended with a vote in favor of the country leaving the European Union.
Osborne said in an interview with the Financial Times that he would cut taxes to 15 percent, instead of 20 percent, which makes the UK the least in corporate taxes among the major economies.
The British finance minister added that tax cuts were part of his plans to build a "very competitive economy" with lower tax rates.
A Finance Ministry official confirmed the accuracy of the British newspaper, but said that the date of implementation of the plan was not yet known.
Last March, Osborne said that corporate taxes would drop to 17 percent by 2020.
In an interview with the Financial Times, Osborne added that it was important that Britain "deal with it" and prove to investors that the country "is still open to business."
The comments of the British Finance Minister come after reports that the Bank of England may reduce this week the value of capital held by banks as a protection net in the event of unexpected risks.
The Bank of England announced on Tuesday the results of the Financial Policy Committee meeting, which assesses the risks to financial stability in the United Kingdom.
The bank announced last week that it would "take any appropriate measures to support financial stability." One of these options may be the devaluation of the capital held by banks.
"Signs of shock"
Osborne recently backed away from his goal of restoring a budget surplus by 2020, after fears of instability stemming from the vote to separate from the European Union.
He said that his country's economy showed "clear signs" of the shock after the vote to separate from the European Union. "And the way we deal will determine the impact of separation on jobs and growth."
Economists also warned of the impact of the UK's secession move. "The economy will experience a severe downturn, which could lead to a full recession, or very slow growth," says Paul Johnson, president of the Institute of Financial Studies.