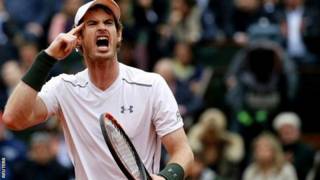 Britain's No. 1 Andy Murray beat Taiwan's Lou Yen-Hsun in three consecutive sets, reaching the third round of Wimbledon tennis.
The Scottish Murray won 6-3, 6-2, 6-1 to go up and face the Australian John Millman, who defeated Frenchman Benoit Bear.
"The first set was tough," said Murray, 29th-seeded world number two. "There have been a lot of equalizer."
Murray had defeated Lou, on his way to winning the Wimbledon championship in 2013.
He said: "I was able to control at the end of the first group, and my performance settled near the end of the second set, and I used to shoot the ball a lot better during the third set, and I felt more comfortable."
Lu had returned after surgery in his facility last May, but soon he was in good shape, winning 15 of the 16 games on grass.
The 32-year-old Taiwanese player was able to break his opponent's serve at the beginning of the match, and impressed during the beginning and end of the first group, but he could not keep up with Murray during the rest of the match.