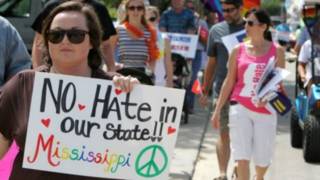 An American judge suspended a law guaranteeing opposition to same-sex marriage in the state of Mississippi for religious reasons, one day before the law went into effect.
The judge said that this law gives religious beliefs privileges against other beliefs, and may deprive gay people of equality.
This law was made to protect people who, based on religious beliefs, reject gay marriage, extra-marital sex as well as gender change.
The state prosecutor is expected to appeal the ruling.
The judge, Carlton Reeves, issued an order suspending the enforcement of the law and invalidating it on Friday.
The law, known as the "Law on the Protection of Freedom of Conscience from Government Discrimination," would allow those who are based on religious beliefs to refuse to provide many services to LGBT people.
Critics say the law is too broad and can be applied to almost anyone even outside same-sex marriage, which affects dealings, adoption, custody, school bath policies and marriage licenses.
Judge Reeves wrote that allowing the law to distinguish religious beliefs over another is in breach of the guarantees of maintaining equality guaranteed by the US Constitution.
The state's Republican Governor, Phil Bryant, who ratified the law last April, expressed his disappointment at the ruling.
He said: "As I said when I signed Law 1523, it offers religious settlements that have been recognized by other states and federal law."
He explained that the reason for his disappointment was Judge Reeves' recognition of this fact, noting that he was looking forward to appealing the ruling.
More than 12 US states have passed laws affirming "religious freedom" in response to the landmark Supreme Court decision to legalize same-sex marriage across the United States.