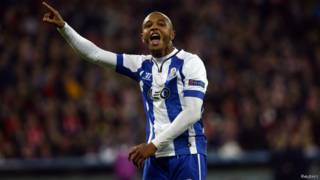 The player of the Algerian national team and FC Porto, Yacine Brahimi, was chosen in the list of the 100 best players in the world for the year 2014.
The list was prepared by a group of experts and old world stars, including Hernan Kespo, Gilberto Silva and Slavan Bilic, and Dietmar Haman, and it was published by the British newspaper The Guardian.
Brahimi was ranked 61st, ahead of fellow Porto, Jackson Martinins, who was ranked 73.
Cristiano Ronaldo, the Portuguese national team player and Real Madrid player, ranked first.
Brahimi is the only player on the list that does not belong to the major European clubs in England, Spain, Italy and Germany.
Brahimi won the Best African Player of the Year award for 2014 organized by the BBC earlier this month.
He also won the "Golden Ball" award for the year 2014, which is awarded by the sports newspaper "El Hadaf" in Algeria.
Brahimi made a good impression in the World Cup finals in Brazil with his country, and then with FC Porto, which he moved to from the Spanish League.